Famous Women Quotes
---
Add this Famous Women quote to your site.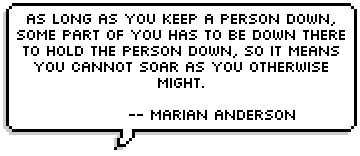 As long as you keep a person down, some part of you has to be down there to hold the person down, so it means you cannot soar as you otherwise might. -- Marian Anderson



Add this quote by African American opera singer Marian Anderson to your blog, website or Myspace account. Simply copy and paste the text from the box below into your site.


Famous Women Sayings Quotations: [1] [2] [3] [4]