Famous Women Quotes
---
Add this Famous Women quote to your site.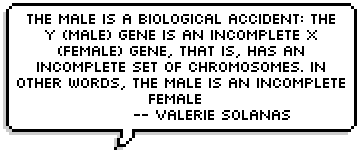 The male is a biological accident: the y (male) gene is an incomplete x (female) gene, that is, has an incomplete set of chromosomes. In other words, the male is an incomplete female, a walking abortion, aborted at the gene stage. -- Valerie Solanas



Add this famous quote by Valerie Solanas to your blog, website or Myspace account. aleroe Solanas was a radical feminist. She is mostly remembered for her attempt to kill Andy Warhol. Simply copy and paste the text from the box below into your site.


Famous Women Sayings Quotations: [1] [2] [3] [4]