Famous Women Quotes
---
Add this Famous Women quote to your site.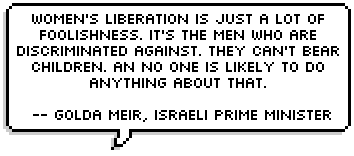 Women's liberation is just a lot of foolishness. It's the men who are discriminated against. They can't bear children. An no one is likely to do anything about that. -- Golda Meir, Israeli Prime Minister



Add this quote by Golda Meirto your blog, website or Myspace account. Simply copy and paste the text from the box below into your site.


Famous Women Sayings Quotations: [1] [2] [3] [4]