Famous Women Quotes
---
Add this Famous Women quote to your site.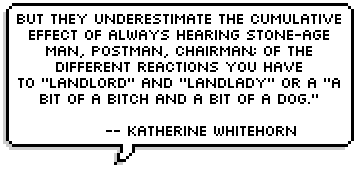 But they underestimate the cumulative effect of always hearing Stone-Age man, postman, chairman; of the different reactions you have to "landlord" and "landlady" or a "a bit of a bitch and a bit of a dog." -- Katherine Whitehorn



Add this famous quote by Katharine Whitehorn to your blog, website or Myspace account. Simply copy and paste the text from the box below into your site.


Famous Women Sayings Quotations: [1] [2] [3] [4]