Famous Women Quotes
---
Add this Famous Women quote to your site.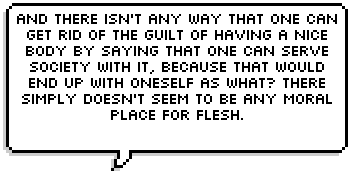 And there isn't any way that one can get rid of the guilt of having a nice body by saying that one can serve society with it, because that would end up with oneself as what? There simply doesn't seem to be any moral place for flesh. -- Margaret Drabble



Add this famous quote by Margaret Drabble to your blog, website or Myspace account. Simply copy and paste the text from the box below into your site.


Famous Women Sayings Quotations: [1] [2] [3] [4]