Famous Women Quotes
---
Add this Famous Women quote to your site.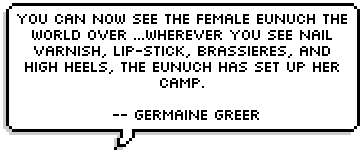 You can now see the Female Eunuch the world over ...Wherever you see nail varnish, lip-stick, brassieres, and high heels, the Eunuch has set up her camp. -- Germaine Greer



Add this famous quote by Germaine Greer to your blog, website or Myspace account. Simply copy and paste the text from the box below into your site.


Famous Women Sayings Quotations: [1] [2] [3] [4]