Inspirational Women Quotes
---
Add this Inspirational Women quote to your site.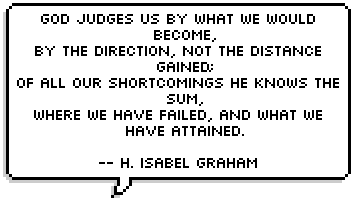 God judges us by what we would become, By the direction, not the distance gained; Of all our shortcomings He knows the sum, Where we have failed, and what we have attained. -- H. Isabel Graham



Add this inspirational woman quote by H. Isabel Graham to your blog, website or Myspace account. Simply copy and paste the text from the box below into your site.


Inspirational Women Sayings Quotations: [1] [2] [3] [4]