Inspirational Women Quotes
---
Add this Inspirational Women quote to your site.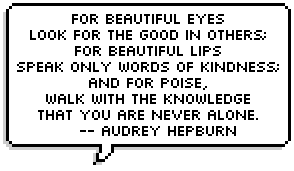 For beautiful eyes look for the good in others; for beautiful lips speak only words of kindness; and for poise, walk with the knowledge that you are never alone. -- Audrey Hepburn



Add this inspirational woman quote by Audrey Hepburn to your blog, website or Myspace account. Simply copy and paste the text from the box below into your site.


Inspirational Women Sayings Quotations: [1] [2] [3] [4]