Inspirational Women Quotes
---
Add this Inspirational Women quote to your site.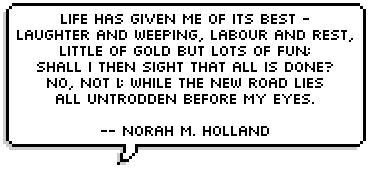 Life has given me of its best - Laughter and weeping, labour and rest, Little of gold but lots of fun; Shall I then sight that all is done? No, not I; while the new road lies All untrodden before my eyes. -- Norah M. Holland



Add this inspirational woman quote by Norah M. Holland to your blog, website or Myspace account. Simply copy and paste the text from the box below into your site.


Inspirational Women Sayings Quotations: [1] [2] [3] [4]