Hate Women Quotes - Misogynistic Quotations
---
Add this Misogynistic quote to your site.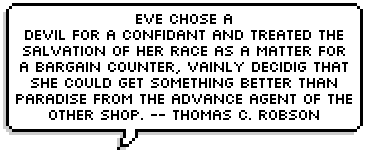 Even when our Mother Eve (the fairest of her daughters) was given the best man ever made, she chose a devil for a confidant and treated the salvation of her race as a matter for a bargain counter, vainly decidig that she could get something better than Paradise from the advance agent of the other shop. -- Thomas C. Robson



Add this quote by Thomas C. Robson to your blog, website or Myspace account. Simply copy and paste the text from the box below into your site.


Misogynistic Sayings Quotations: [1] [2] [3] [4]