Hate Women Quotes - Misogynistic Quotations
---
Add this Misogynistic quote to your site.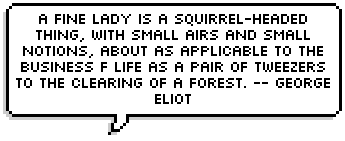 A fine lady is a squirrel-headed thing, with small airs and small notions, about as applicable to the business f life as a pair of tweezers to the clearing of a forest. -- George Eliot



Add this quote by George Eliot to your blog, website or Myspace account. Simply copy and paste the text from the box below into your site.


Misogynistic Sayings Quotations: [1] [2] [3] [4]