Susan B. Anthony Quote
Meaningful Quotes by Susan B. Anthony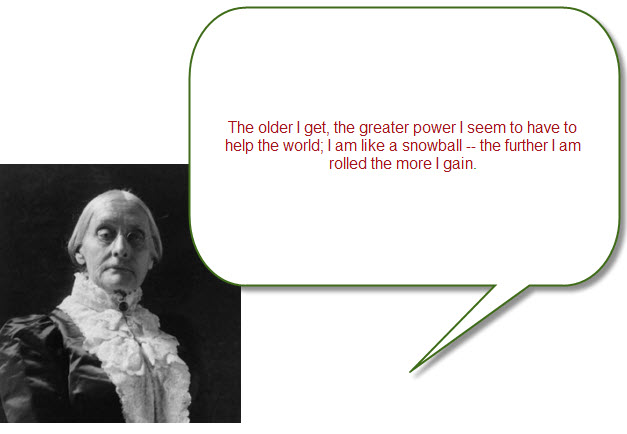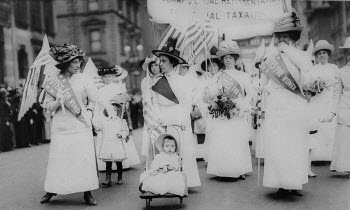 Suffraggettes Marching for the Right to Vote

Susan B. Anthony (born February 15, 1820 - died March 13, 1906) was an important civil rights activist who campaigned tirelessly on behalf of women's rights. She played a crucial role in the emancipation of women in the nineteenth century, and worked to secure the right to vote for women. She was convicted for illegally voting (because she was a woman) in the 1872 Presidential election.

Here is a selection of the best quotes by Susan B. Anthony:
Join the union, girls, and together say Equal Pay for Equal Work



Independence is happiness.



It was we, the people; not we, the white male citizens; nor yet we, the male citizens; but we, the whole people, who formed the Union.... Men, their rights and nothing more; women, their rights and nothing less.



Resolved, that the women of this nation in 1876, have greater cause for discontent, rebellion and revolution than the men of 1776.







I think the girl who is able to earn her own living and pay her own way should be as happy as anybody on earth. The sense of independence and security is very sweet.




Men, their rights, and nothing more; women, their rights, and nothing less.





Let me tell you what I think of bicycling. I think it has done more to emancipate women than anything else in the world. It gives women a feeling of freedom and self reliance. I stand and rejoice every time I see a woman ride by on a wheel - the picture of free, untrammeled womanhood.




The older I get, the greater power I seem to have to help the world; I am like a snowball - the further I am rolled, the more I gain.




Cautious, careful people, always casting about to preserve their reputation and social standing, never can bring about a reform. Those who are really in earnest must be willing to be anything or nothing in the world's estimation, and publicly and privately, in season and out, avow their sympathy with despised and persecuted ideas and their advocates, and bear the consequences.




Trust me that as I ignore all law to help the slave, so will I ignore it all to protect an enslaved woman.




One-half of the people of this nation to-day are utterly powerless to blot from the statute books an unjust law, or to write there a new and a just one.




I do not consider divorce an evil by any means. It is just as much a refuge for women married to brutal men as Canada was to the slaves of brutal masters. -- Susan B. Anthony [Get this Quote]




I declare to you that woman must not depend upon the protection of man, but must be taught to protect herself, and there I take my stand.




I always distrust people who know so much about what God wants them to do to their fellows.