Great Women Quotes
---
Add this Great Women Quote to your site.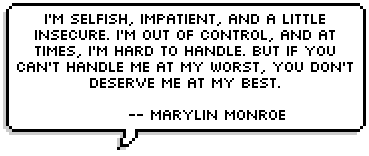 I'm selfish, impatient, and a little insecure. I'm out of control, and at times, I'm hard to handle. But if you can't handle me at my worst, you don't deserve me at my best. -- Marylin Monroe



Add this great quote by Marylin Monroe to your blog, website or Myspace account. Simply copy and paste the text from the box below into your site.


Great Women Sayings Quotations: [1] [2] [3] [4]